Swedish, Deep Tissue, Pregnancy, Tuina, Cupping Massage Rate:
30 min $50 60 min $85 90 min $120
45 min $70 75 min $105 2 hr $160
Swedish Massage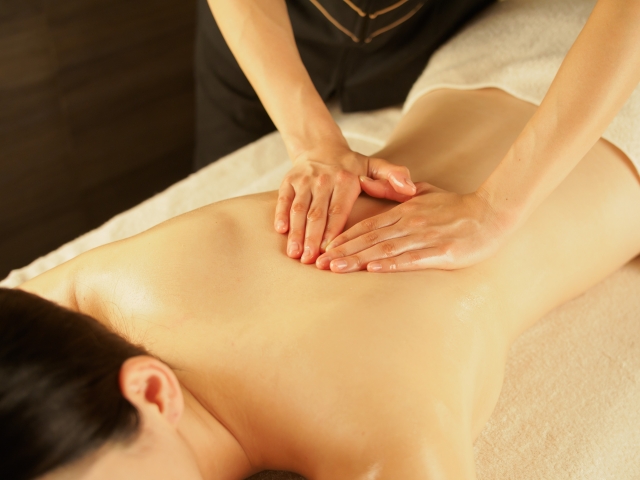 Swedish style massage reduces tension and stress by the uses of firm but gentle pressure of superficial layers of muscle in the body for the purpose of relaxation, and health maintenance.
Deep Tissue Massage
A variation of Swedish massage technique that is aimed at the deeper tissue structure of the muscle and connective tissue(fascia). Pressure will be more intense and focused, as the therapist works to release adhesions of "knots" caused by chronic muscle tension.
Pregnancy Massage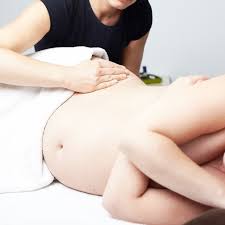 Expectant mothers can safely enjoy relief and reduce tension and lower back pain during all stages of pregnancy. Please consult with your physician.
Couple's Massage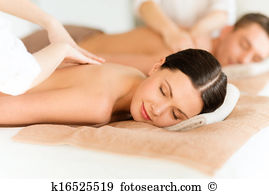 A couple's massage is offered in a private room on side-by-side massage tables with two therapists who work on each individual at the same time or can be done in separate rooms as well. The rate will be the same as individual massage for each person.
Tuina Therapeutic Massage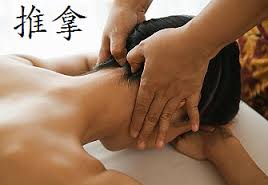 Tuina is an ancient Chinese system of manual therapeutics with a wide range of techniques and indications. That works deeply into the muscles and connective tissues with special Chinese acupressure massage to increase energy level and release chronic aches and pains.
Cupping Treatment Massage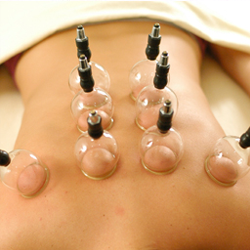 Cupping is a traditional Chinese medicine technique that dates from as early as 3000 B.C. that utilizes suction cups on soft tissue to relax tight muscles and improve blood and energy flow throughout the body. The cups are placed over the traditional energy maridian points and can also be moved across the tissue, providing a unique massage experience. harmless superficial bruising may be caused with the most aggressive treatments, and is thought to be the negative energy elements exiting the body.
Ashiatsu Oriental Bar Therapy Massage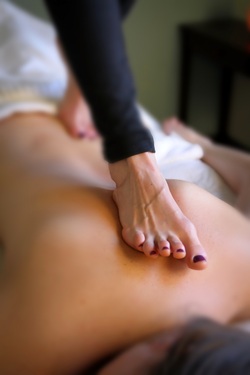 A form of ancient Chinese therapy, is the deepest, most luxurious massage by the therapist using the feet and body weight to give the deepest massage possible. Ashiatsu is for people with chronic low and upper back pain, sciatica, and tight hamstrings. 60 min $95 90 min $135
Chair Massage (in our office)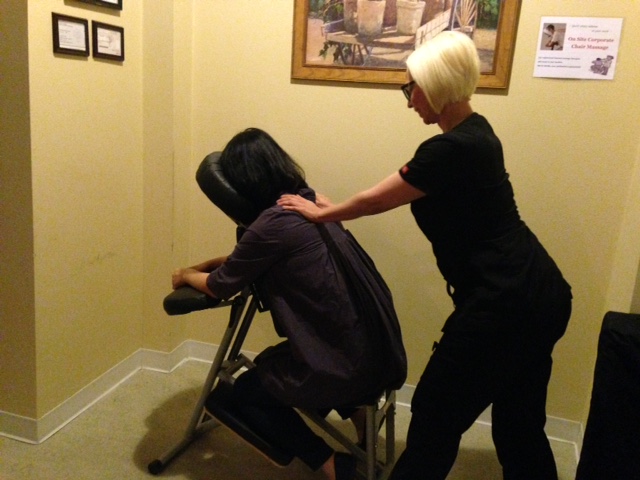 For a quick muscle release to address a certain area (fully clothed).
10 minutes $15 15 minutes $20 20 minutes $26
25 minutes $32 30 minutes $38
On Site Chair Massage
$80 per hour with 2 hours minimum
Reflexology Foot Massage
Improvement in blood flow
Adjunct to mental health care
Reduction in pain
Enhancement of medical care
Creation of relaxation
Complement to cancer care
Impact on physiological measures
A soothing Chinese herbal foot bath followed a 20 minute lower leg and reflexology foot massage.
30 minutes $40

A soothing Chinese herbal foot bath followed by a 45 minute lower leg and reflexology foot massage. Enhances the immune system and improves blood circulation also normalizes organ and gland functions.
60 minutes $69